Over the past 22 years,

Meditech

has become one of best suplier in innovating and manufacturing pulse oximetry systems.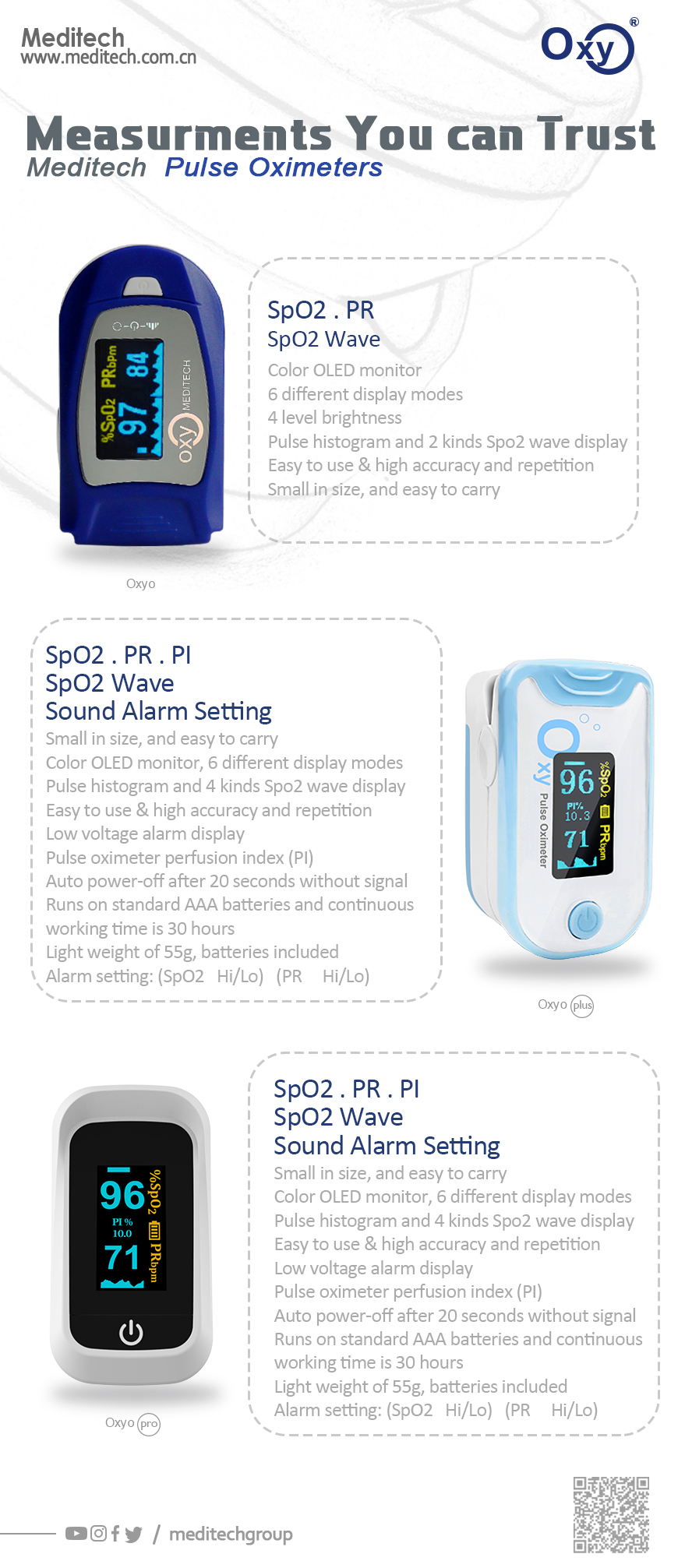 Medical professionals around the world depend on
Meditech`s Oximeters
to accurately measure low oxygen levels of patients. Now, the company's
fingertip
and
table top pulse oximetry
systems are a critical technology used on the front lines of early diagnosis and treatment of critically ill patients with COVID-19.
The World Health Organization (WHO)
guidelines for clinical management of COVID-19 cites: "Oxygen therapy is a major treatment intervention for patients with severe COVID-19. All countries should work to optimize the availability of pulse oximeters and medical oxygen systems."
Meditech's pulse oximeters
provide a high level of accuracy of detecting low oxygen levels, making them the medical community's preferred choice for the current COVID-19 situation where medical professionals need to quickly and accurately assess if a patient is sick.
Meditech's pulse oximeters
are also used during treatment to monitor the oxygen levels of critically ill patients with COVID-19 and other severe respiratory illnesses as well as aftercare.
Due to the COVID-19 pandemic, Meditech Group has experienced an unprecedented increase in demand in just one month. The company is working hard to keep up with demand to get this critically important medical technology out to those who are in dire need as cases of COVID-19 continue to increase.
MAA COVID-19 INFORMATION DISCLAIMER:
The Medical Alley Association is providing COVID-19 related information, including the "COVID-19 Resource Connect" feature on its website and summaries of laws, executive orders, and government programs that may be of interest to members, as a public service. The Medical Alley Association makes no representations, guarantees, or warranties as to the accuracy, completeness, currency, or suitability of the COVID-19 related information provided by the Medical Alley Association on its website, in newsletters, or in any other communications. The Medical Alley Association specifically disclaims any and all liability for any claims or damages that may result from providing COVID-19 related information online or in other communications or linking to third party websites or other sources of information. The Medical Alley Association makes no effort to independently verify, and does not exert editorial control over, information provided by third parties.
The Medical Alley Association does not endorse any of the products, vendors, consultants, or documentation referenced in, or connected to parties through, the COVID-19 Resource Connect feature or via this email or other communications.