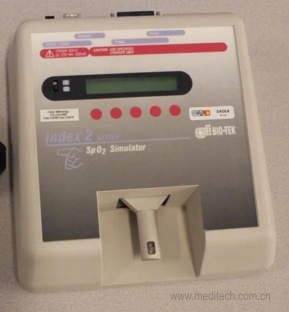 Index 2 SpO2 Simulator
Index 2 Series combines Fingersense our new patented simulated finger with the first comprehensive probe and electronics test to fully analyze pulse oximeters and probes.
BIOTEK Index 2 Series SPO2 Simulator,προσομοιωτή οξύμετρο,محاكاة مقياس التأكسج,oximeter simulator,血氧饱和度模拟器
OVERVIEW
Index 2's new "Fingersense" assures compatibility with virtually any oximeter on the market today. No hardware or firmware upgrades are necessary. Fingersense incorporates new electronic physiology that instantly recognizes and adapts to all types of oximeter simulation technologies. Use its new user definable "make" feature and pulse oximeter makes that are not included within Index can be verified with acceptable accuracy. With the rapid increase of SPO2 monitors, the new physiology in the electronics help insure that Index 2 will be compatible with your pulse oximeter.
Electrical simulation for testing the pulse oximeters alone and probe testing is now available in the "E" version. This allows you to test the oximeter without the probe in-line and all simulations are available. The probe analysis includes:
LED test: Voltage drop across both red and infrared diodes
Photodiode test: Detector response to a 1 mA illuminating current (both red and infrared)
Resistive wire check: Resistances between all wires
Index 2 lets you simulate arterial oxygen saturation (SPO2) from 35% to 100% oxygenation. Heart rate can also be varied from 30 to 250 BPM. In addition, Plethysmographic waveforms can be set from 0-100% amplitude, simulating the range from no pulse up to a very strong pulse. These basic features allow Index 2 to simulate several different patient conditions such as:
Normal Patient
Patient with a weak pulse
Geriatric patient
Obese patient
Bradycardia
Tachycardia
Bio-Tek's test simulations verify the pulse oximeters SpO2 and heart rate alarms for response time. Use Index 2 for pre-purchase evaluations to determine how well different pulse oximeters respond to artifacts such as motion, ambient sunlight and 50/60 Hz artificial light.
In addition, Index 2 comes with full computer control, a built-in RS232, and a printer port. Test results may be transferred to Bio-Tek's Equipment Management System via OTIS for Windows (OFW) or sent directly to an attached printer for hard-copy results.
FEATURES
Portable
9 preloaded manufacturers R-Curves
User definable 'makes' for most other manufacturers
5 downloadable R-curve spaces available >
Patented physiological finger for a complete SPO2 test
Electrical probe test and electrical oximeter simulation
RS232 Port
APPLICATIONS
On-going preventative maintenance testing
Isolate sensor versus electronics problems
Determine performance variations in less than ideal conditions
Incoming inspections and repair
Pre-purchase evaluations
SPECIFICATIONS
%O2
Range: 35-100%
Resolution: 1%
Accuracy: 100-75% ±1%, ±accuracy of the pulse oximeter under test 74-50% ±2% ±accuracy of the pulse oximeter under test Less than 50% unspecified
Repeatability: ±1 standard deviation
Rate
Range: 30-250BPM
Resolution: 1 BPM
Accuracy: 1% ±1BPM
Pulse Amplitude
Range: 0-100% of nominal pleth amplitude
Resolution: 1%
Accuracy: ±1% of setting, nominal pulse
Display
2 line x 24 character super twist LCD
ACCESSORIES
OTIS for Windows Test Integration Software
Printer
Carrying case
RS232 cable
Printer cable
Battery eliminator
Upgrades
VERSIONS
Index 2F
Optical finger; now with enhanced optics for a more physiological finger
Index 2E
Electrical oximeter simulation/testing and electrical probe testing
Index 2FE
Both optical finger and electrical simulations/probe testing